Thursday, October 11, 2012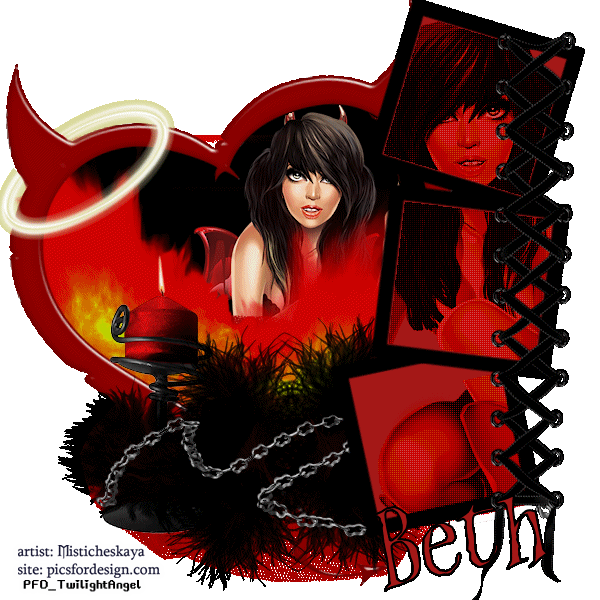 This tutorial is my creation & any resemblences to others is purely accidental
Written by ToxicTutorialz on 10.11.12 in PSPX2
Any PSP version should work
Do Not Claim as Your own
Link Back to My Blog
Remember to SAVE Often!!!
DevilTube by LadyMishka Buy it at
PFD

AnimationShop

Eyecandy4/fire
Start with a 600 x 600 blank image
Set presetshape to rectangle width15
Background on #a51918 Foreground on #000000
Draw out a med size rectangle
Convert to raster
Use picktool to push up on control arm
Place on right side
Duplicate Place below the top rectangle
Duplicate and place below the middle rectangle
Line them up the way you like
Drag laceup into psp and paste as new layer
Place on far right side on all 3 frames
Use magicwand to select center of all 3 frames
Copy/Paste your tube as new layer
Selections Invert Delete Deselect
Apply a texture of choice I used penta.com / colordot
Duplicate your tube layer
On original change the blendmode to burn
On duplicate change blendmode to soft light
Drag frame4 into psp and paste onto image as new layer
Grab magicwand again and select center of frame
Selections Modify Expand by 3 Add new layer
Floodfill with black DO NOT DESELECT YET!!!
Drag fire into psp and paste as new layer
Line up inside frame at bottom Selections Invert Delete
Duplicate your fire Image Mirror Line up on left side
Erase any outside overhang
Magicwand once again selecting inside frame
C/P tube as new layer Resize to 65% Align the way you like best
Selections Invert Delete Deselect
Move tube layer below frame and fire layers on alyer pallete
Drag halo into psp
Copy/Paste as new layer Place on the horn as seen in tag above
Erase bits of the halo so that its wrapped around horn
Drag netting into psp and paste
Place at bottom of devilframe
Move below the frame and fire layers on layer palette
Drag feathers and chain into psp
Paste feathers as new layer and place on bottom of frame
Duplicate feathers and place to the right just a bit
Now paste the chain
See my tag above for placement
Drag candle into psp and paste
Resize to 65% and place on the bottom left side
Place your feather and chain over the candle as seen in my tag above
Add your copywrite
Add your name using the font witchesmagic size 20 stroke2
Jump back on your fire layers and merge down
Edit CopyMerged
Open Animationshop and paste as new animation
Back to psp
On fire layers Selections Select All Float Defloat
Effects Plugins EC4/Fire with the below settings

Deselect
Edit CopyMerged Paste into Animationshop after currentframe
Back to psp
Hit Undo twice
Reapply the fire plugin except hit seed twice
Deselect
Paste in animationshop after current frame
Back to psp again
Hit undo twice
Reapply same plugin once more hitting random seed twice
Deselect
Paste in animationshop once again after currentframe
Edit Select All Animation Frame Properties Set speed to 45
View your animation and save.
About Me
♥My T.O.U♥
♥Tutorial T.O.U♥



The tutorials are from my own creation & what you make from them are yours but please DO NOT use my tutorials for monetary gain or to make money from.

I love writing tutorials to guide and teach you.

Please DO NOT hotlink anything from this blog.

You may share my tutorials in your groups with my permission. I am allowed to join any group that my tutorials are being shared with.



My Stalker Hits

Labels
PTU.Tuts
(113)
FTU.Tuts
(10)
SneakPeeks
(3)
Templates
(3)
FTU Elements
(2)
News
(2)
Tag Showoffs
(2)
Blinkie Tut
(1)
BlogTrains
(1)
FTU
(1)
FTU Previews
(1)
Moving tutorials
(1)
New Blog Layout
(1)
Tutorial Previews
(1)
ftu tags
(1)