Monday, August 20, 2012
This tutorial is my creation & any resemblemces to others is purely accidental

Written by ToxicTutorialz on 8.20.12 in PSPX2
Any version should work
Do Not Claim as Your own
Link Back to My Blog
Remember to SAVE Often!!!

Version of PSP
Animationshop
Just right click and save to desktop
Start by opening a 800 x 500 blank image/canvas
Pull paper 6 into psp and paste as new layer
Apply mask from disk
Right click on mask alyer in palette and merge group
Resize mask to 120
Pull paper1 into psp and set as your BG on material palette
FG on Null
Grab your selection tool set on rectangle
Add new layer
Draw out a large rectangle but not too large that it covers your mask
Selections Float Defloat Selections Modify Contract by 20
Pull paper3 into psp and paste as new layer
Selections Invert Delete Deselect
Now lets dress it up!! :)
Bring element16 into psp & paste as new layer
Resize down to 45% Position on right side on frame
Duplicate Image Mirror
Pull element 11 into psp and paste onto image
Resize to 60% Position in middle behind the fence's
Now paste your poser/tube as new layer
I had to resize to 45% and then again to 65%
Position on left side at bottom in front of fence
Pull element 33 & element 34 into psp
Paste element 34 as new layer and resize to 40%
Place on right side at bottom
Now paste element 33 as new layer and resize down to 25%
Position on birdhouse
Pull element 38 into psp & paste
Resize down to 30% Position in fron tof your tube
Pull element 36 into psp
Paste as new layer & resize to 30%
Place at bottom in front of birdhouse & duplicate
Place duplicate over just a bit behind your tube's foot
Pull Elements 1 and 17 into psp
Paste element1 as new layer
Resize down to 25%
Place behind fence in center
Paste element 17 as new layer Resize if necessary
Place in behind your bushes then duplicate and move over to the right
May need to move up on your layer palette
I also used element 18 and resized down to 30%
Place behind fence on right side and duplicate Image mirror
Add your copywrite
Now last but not least lets add our name
Set your font on JACKLANTERN BB Size24 Stroke4
BG on paper 5 FG on #6c2a21
Type out your name Convert to raster
Place where you like
Edit CopyMerged
Paste into Animationshop as new animation
Close out psp
Ok bring your fallingleaves animation into AS
We need 20 copies of our tag
So on your toolbar at the top of AS
Click on the clipboard til you have 20 frames of your tag
Slide your slider all the way to the left on your tag
Edit Select All
Jump to your animation
Edit Select all Copy
Jump back to your tag Paste into slected frame
Dont let up on mouse til you ahve it where you want
Then let go of mouse
I pasted mine at bottom in front of scarecrow
Repeat this again but pasting it under the first animation
Repeat 4 more times pasting on right then left sides
Refer to my tag above for exact placements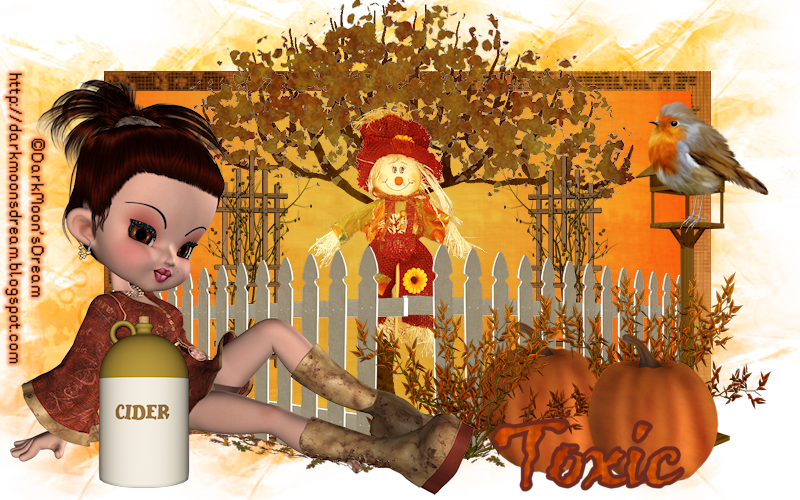 About Me
♥My T.O.U♥
♥Tutorial T.O.U♥



The tutorials are from my own creation & what you make from them are yours but please DO NOT use my tutorials for monetary gain or to make money from.

I love writing tutorials to guide and teach you.

Please DO NOT hotlink anything from this blog.

You may share my tutorials in your groups with my permission. I am allowed to join any group that my tutorials are being shared with.



My Stalker Hits

Labels
PTU.Tuts
(113)
FTU.Tuts
(10)
SneakPeeks
(3)
Templates
(3)
FTU Elements
(2)
News
(2)
Tag Showoffs
(2)
Blinkie Tut
(1)
BlogTrains
(1)
FTU
(1)
FTU Previews
(1)
Moving tutorials
(1)
New Blog Layout
(1)
Tutorial Previews
(1)
ftu tags
(1)