Friday, August 10, 2012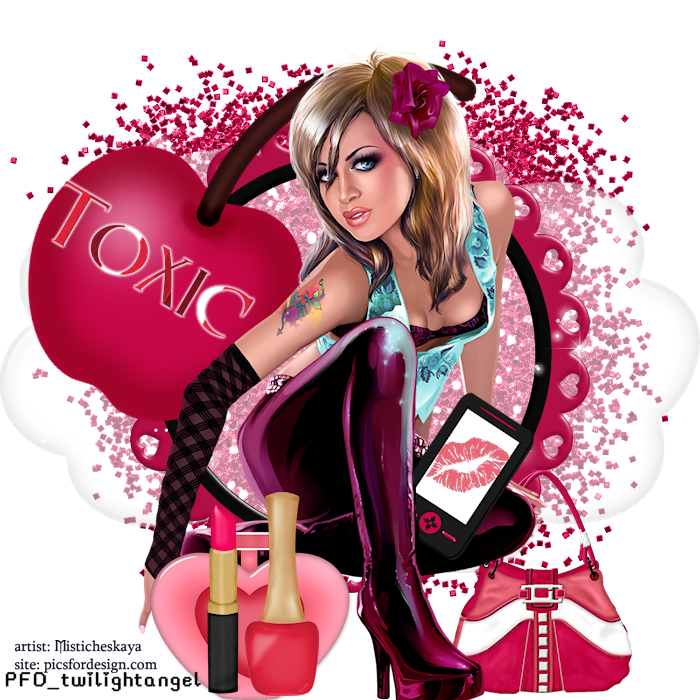 This tutorial is my creation & any resemblemces to others is purely accidental
Written by ToxicTutorialz on 8.10.12 in PSPX2
Any version should work
Do Not Claim as Your own
Link Back to My Blog
Remember to SAVE Often!!!
Version of PSP
PTU Tube
by Mistichkaya
at
PFD
Bring frame3, glitter1, cloud, cherry,handbag,cellphone, heartbottle, lips,lipstick, polish
into psp and minimize all but frame,glitter and cloud
Bring frame into view
Paste glitter element and place behind frame layer on layer palette
Repeat with cloud element
Resize frame to 85%
Paste the cherry as new layer & resize to 80%
Position on left side of frame
Paste the cellphone
Resize all the way down to 45%
Paste your tube as new layer & resize to 80%
Position toward the bottom of frame
Position cellphone on her leg
You may have to use pick tool to turn the cellphone
Now paste your remaining elements and place where you like best
I resized the lips to 35% and positioned on the cellphone screen
Add your copywrite
Pull paper 2 into psp & set as your bg on material palette fg on null
font set on RebelCaps size 16
Type out your name Convert to raster
Position on your cherry
Merge all visible and save
About Me
♥My T.O.U♥
♥Tutorial T.O.U♥



The tutorials are from my own creation & what you make from them are yours but please DO NOT use my tutorials for monetary gain or to make money from.

I love writing tutorials to guide and teach you.

Please DO NOT hotlink anything from this blog.

You may share my tutorials in your groups with my permission. I am allowed to join any group that my tutorials are being shared with.



My Stalker Hits

Labels
PTU.Tuts
(113)
FTU.Tuts
(10)
SneakPeeks
(3)
Templates
(3)
FTU Elements
(2)
News
(2)
Tag Showoffs
(2)
Blinkie Tut
(1)
BlogTrains
(1)
FTU
(1)
FTU Previews
(1)
Moving tutorials
(1)
New Blog Layout
(1)
Tutorial Previews
(1)
ftu tags
(1)