Thursday, August 23, 2012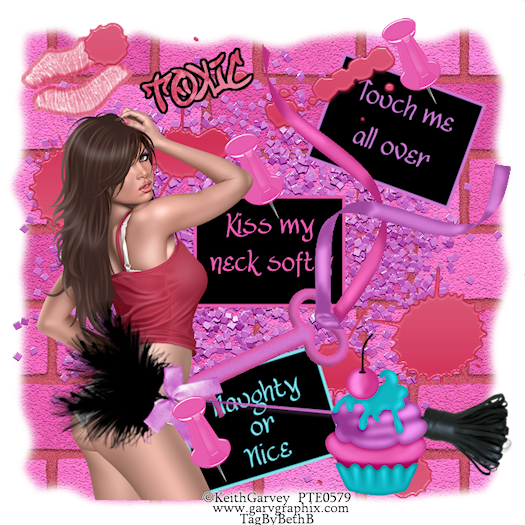 This tutorial is my creation & any resemblemces to others is purely accidental
Written by ToxicTutorialz on 8.23.12 in PSPX2
Any version should work

Do Not Claim as Your own
Link Back to My Blog
Remember to SAVE Often!!!

Version of PSP
PTU Tube by
Keith Garvey
You may now purchase his tubes from his personal store
here
This tube is from pte -pte is now closed
Plugin used
EC5 TEXTURE/Brickwall
Let's begin by opening a 700 x 700 blank image
Pull paper14 into psp and c/p as new layer onto blank image
Hit the basic tab inside ec5
Set your brick height to 100, Aspect Ratio to 2.75, Brick Pattern to English,
Brick Color #f56abb, Montar Color #b94e62 All other default, Click ok
Use your eraser size 78 and erase the outside edges all the way around
C/P your tube as new layer
Place on bottom left side on background
Pull lips1 into psp and paste onto image
Resize to 35% Place at top on left side
Move lips layer below tube layer
Pull words 1,2,& 3 into psp
C/p each one as new layers and place where you like on right side of background
Pull sparkle2 and key into psp
Paste key as new layer and move over to the right side just a bit
Paste your sparkle
Move sparkle layer below all layers but Background layer
Pull splatter2 into psp
Paste and move to the top and over to the right just a little
Duplicate Image Mirror Flip
Pull whip into psp and paste
Use your pick tool to pull up so that the feather is touchin your tube's hiney
Pull pin2 into psp and paste
Resize to 30% and place on words duplicate twice and repeat
Add another element of choice. Place at bottom.
Pull paper8 into psp Set as your BG on material palette
FG Null
Font set on StreetSoul Size 28
Type out your name and place at top of tube.
Convert to raster layer
Selections Select All Float Defloat Modify Expand by 4
Add new layer below your name Floodfill with black Deselect
Add your copywrite
Merge all visible
Image Resize to 75% all layers checked
Save as PNG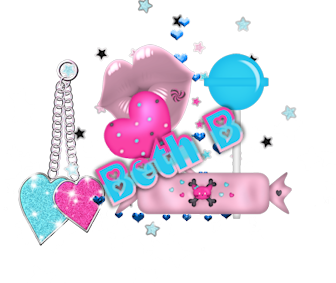 About Me
♥My T.O.U♥
♥Tutorial T.O.U♥



The tutorials are from my own creation & what you make from them are yours but please DO NOT use my tutorials for monetary gain or to make money from.

I love writing tutorials to guide and teach you.

Please DO NOT hotlink anything from this blog.

You may share my tutorials in your groups with my permission. I am allowed to join any group that my tutorials are being shared with.



My Stalker Hits

Labels
PTU.Tuts
(113)
FTU.Tuts
(10)
SneakPeeks
(3)
Templates
(3)
FTU Elements
(2)
News
(2)
Tag Showoffs
(2)
Blinkie Tut
(1)
BlogTrains
(1)
FTU
(1)
FTU Previews
(1)
Moving tutorials
(1)
New Blog Layout
(1)
Tutorial Previews
(1)
ftu tags
(1)