Sunday, September 23, 2012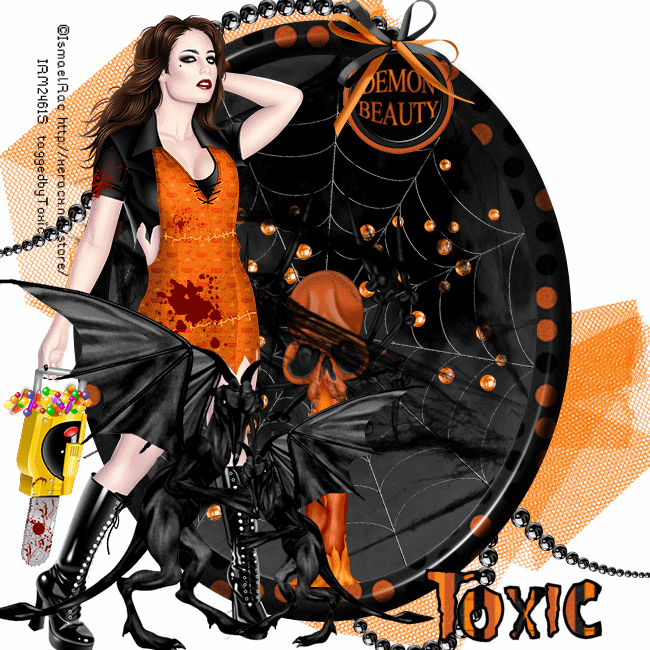 This tutorial is my creation & any resemblemces to others is purely accidental
Written by ToxicTutorialz on 9.23.12 in PSPX2
Any PSP version should work

Do Not Claim as Your own
Link Back to My Blog
Remember to SAVE Often!!!
Open a new image 650 x 650 transparent
Preset shape set on ellipse width36 FG on paper9 BG on Null
Draw out a large oval
Apply a bevelboss of choice
Pull web into psp
Copy/Paste as new layer Place inside frame toward the top
Duplicate web Image Mirror flip
Grab eraser size 25 and erase any overhang outside of frame on both web layers
Move weblayers below your frame layer
Pull moon into psp and paste as new layer inside frame
Use your picktool to stetch out from top to bottom and from left to right
Move below frame and web layers
Pull spiderweb into psp and paste inside frame
Make sure this layer is above moon but below webs and frame layers
Pull netting into psp and paste as new layer
Move netting layer below all layers and place in top left corner
Duplicate Image Flip and place in lower right corner
Pull beads2 into psp
C/P inside frame as new layer
Pull pearls into psp
Copy & Paste as new layer Place in top left corner
Move this layer below moon layer but above netting layers
Duplicate Image Mirror Flip and then flip again Position in bottom right corner
C&P your tube as new layer Position on the LEFT side of frame
Pull gargoyle into psp and paste as new layer on bottom right side
We want it to make it look as if he is grabbin your tube's leg
Place between her legs
Resize to 55% and duplicate Place on the outside of her right leg
Pull candle, bow4 and button into psp
C&P the button as new layer and resize to 45%
Place in the upper right side on frame
Repeat for the bow and place on button
Paste the candle as new layer and place at the bottom on right side
Add your copywrite
Pull paper11 into psp and set as BG FG on Black
Font on Misfits Size 24 Stroke3
Type out your name and convert to raster layer
Place on the bottom right side
Jump down to the very bottom layer and floodfill with white
Now comes the fun part
Open animation shop
Edit Copymerged and Paste into Animation Shop as New Animation
Back to PSP
Jump up onto your moon layer and apply
Effects Illumination Lights and apply the settings shown below
insert image1
Edit CopyMerged Paste into Animation Shop after CurrentFrame
Back to PSP
Apply same effect as in image 2 below
Edit CopyMerged Paste into Animation Shop after Currentframe
Back to PSP
Repeat same effect as seen in below image3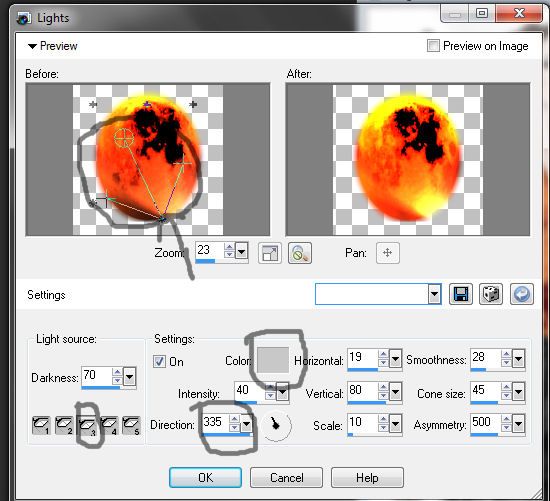 Paste into Animation Shop as before
Now in animationshop Edit Select All Animation Frame Properties
Set speed to 40 View Animation and Save
About Me
♥My T.O.U♥
♥Tutorial T.O.U♥



The tutorials are from my own creation & what you make from them are yours but please DO NOT use my tutorials for monetary gain or to make money from.

I love writing tutorials to guide and teach you.

Please DO NOT hotlink anything from this blog.

You may share my tutorials in your groups with my permission. I am allowed to join any group that my tutorials are being shared with.



My Stalker Hits

Labels
PTU.Tuts
(113)
FTU.Tuts
(10)
SneakPeeks
(3)
Templates
(3)
FTU Elements
(2)
News
(2)
Tag Showoffs
(2)
Blinkie Tut
(1)
BlogTrains
(1)
FTU
(1)
FTU Previews
(1)
Moving tutorials
(1)
New Blog Layout
(1)
Tutorial Previews
(1)
ftu tags
(1)