Wednesday, October 17, 2012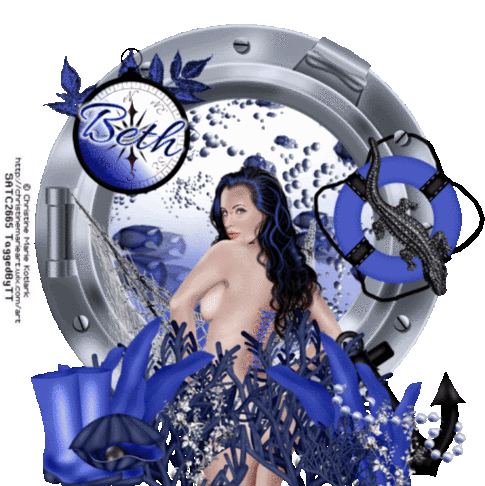 This tutorial is my creation & any resemblences to others is purely accidental
Written by ToxicTutorialz on 10.15.12 in PSPX2
Any PSP version should work
Do Not Claim as Your own
Link Back to My Blog
Remember to SAVE Often!!!
PTU Kit called BlueLace by
DevilishDezines
PTU Tube by ChristineKotlark
Buy it at SATC-
HERE
Font Allura
dafont.com
AnimationShop
Pull frame3 into psp
Resize to 85%
Pull paper3 into psp
Select center of frame using magicwand
Selections Modify Expand by 5
Copy & Paste the paper as new layer
Selections Invert Delete DO NOT DESELECT
Pull element13 into psp
Copy & Paste as new layer inside frame
Position the way you like and Hit Delete DO NOT DESELECT YET!!
Pull element49 into psp and paste as new layer inside frame
Hit Delete as before Now Deselect
Move paper,bubbles and fish layers below frame layer
Make sure you fish layer is above your bubbles layer
C&p the tube as new layer and resize to 75%
Place at bottom in center
Pull elements 10 and 22 into psp
C&P element10 as new layer
Resize to 55% and place at bottom as seen in tag above
Now paste element22 as new layer and repeat steps above
Keep repeating til you are happy with it
Pull element 20 into psp Resize to 55%
Place on the bottom left side on frame
Pull element 41 into psp and resize to 40%
Place at bottom in front of other elements
Now start adding other elements you may like that goes great with the image
I added Elements 6, 8, 27,,47, 48, 53 and 69
Resize as necessary and place your whole image as you like
I placed the life preserver on the right side and resized to 45%
I then placed the lizard on the life preserver
If you used element 53 place it on the upper left side on frame and resize to 45%
Add your copywrite and name
Close off all layers except your paper,bubbles and fish layers
Right Click on the top blue aprt of your image and copymerged
Paste into Animationshop as NEW ANIMATION
Go to effects Insert Image Effect & Apply the UnderWater Effect as seen below

Back to psp
Close off the bottom 3 layers which are the paper,bubbles and fish
Open the remaining layers from frame on up
Edit CopyMerged Paste into Animationshop as New ANIMATION
Ok now we have 17 frames of our underwater image
So make 17 frames of our framed image
Click the clipboard on the top toolbar in animationshop 17 times
Jump onto your underwater image tag
Edit Select All
Jump back onto your frame tag image
Edit Select All Copy
Jump back to your underwater tag image and Paste into selection
Don't let up on mouse til you have it aligned the way you like
Let go of mouse
Move your slider back to first frame
Highligh first frame and hit delete
Edit Select ALL Animation View and Save as gif
About Me
♥My T.O.U♥
♥Tutorial T.O.U♥



The tutorials are from my own creation & what you make from them are yours but please DO NOT use my tutorials for monetary gain or to make money from.

I love writing tutorials to guide and teach you.

Please DO NOT hotlink anything from this blog.

You may share my tutorials in your groups with my permission. I am allowed to join any group that my tutorials are being shared with.



My Stalker Hits

Labels
PTU.Tuts
(113)
FTU.Tuts
(10)
SneakPeeks
(3)
Templates
(3)
FTU Elements
(2)
News
(2)
Tag Showoffs
(2)
Blinkie Tut
(1)
BlogTrains
(1)
FTU
(1)
FTU Previews
(1)
Moving tutorials
(1)
New Blog Layout
(1)
Tutorial Previews
(1)
ftu tags
(1)